PORT-AU-PRINCE, Haiti – As Haiti's economy teeters on the brink of collapse and essential services crumble, residents of the capital Port-au-Prince are caught in a horrifying crossfire of surging gang violence, with rising accounts of murders, kidnappings, rape and forced displacement.
Access to the few health centres and hospitals that are still functioning has become treacherous if not impossible. Not being able to receive critical sexual and reproductive health care is endangering the lives of women and girls in need, particularly survivors of sexual violence and an estimated 85,000 currently pregnant women – around 30,000 of whom are due to give birth in the throes of the crisis over the next three months.
One pregnant woman told UNFPA she lost everything when she fled her home: Her husband was killed by gunfire in Cité Soleil and she is now fully reliant on humanitarian assistance to survive. Women and girls as young as nine years old have reported being raped by gangs intent on inciting terror and exacting revenge on those in neighbourhoods controlled by rivals.
Haiti already has the highest level of maternal mortality in Latin America and the Caribbean.  Now with intensified fighting in the capital and many essential services and health facilities still damaged or destroyed in the south of the country following last year's earthquake, humanitarian needs are soaring: Over 4.9 million people are currently in need of assistance, including some 1.3 million women of reproductive age.
UNFPA delivering supplies and support 
The Cité Soleil area in the capital is home to over 250,000 people and has suffered some of the fiercest fighting, with hundreds dead, injured or unaccounted for. At least 17,000 people from the greater Port-au-Prince area have been forced out of their homes over the past few months, taking refuge in makeshift camps or with relatives as extreme instability tightens its grip.
Without access to essential services, women and girls' health, well-being and survival are dangerously compromised. UNFPA staff on the ground are helping survivors of gender-based violence to seek legal, psychosocial and medical assistance, distributing health supplies and solar lamps to displacement sites, and securing evacuation options to ensure pregnant women with complications receive emergency obstetric and newborn care.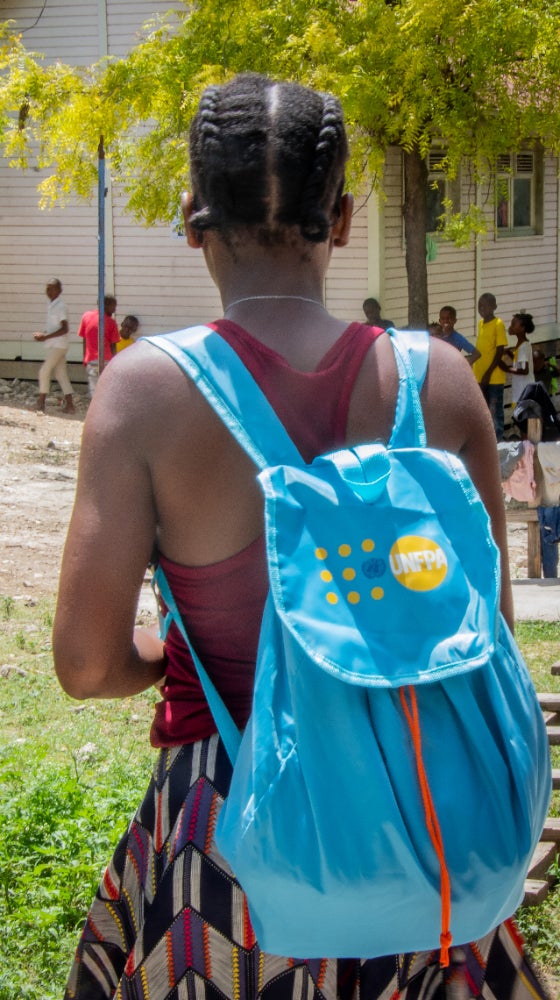 UNFPA dignity kits contain women's health and hygiene products, while maternity kits have care items tailored to pregnant women, new mothers and infants. Ⓒ UNFPA/Jhunie Laura Ganeme
Hundreds of dignity and maternity kits have been distributed across four displacement sites in the capital Port-au-Prince, aimed at helping the most vulnerable women and girls who fled their homes in terror and without enough time to collect even their most essential belongings. Dignity kits contain women's health and hygiene products while maternity kits have care items for mothers and newborns, with the contents of both expected to last each woman for three months.
A call for solidarity 
To ensure sexual and reproductive health services for women and girls trapped in otherwise inaccessible areas, eight UNFPA-supported mobile clinics will be deployed and work together with local health centres. UNFPA is also training community advocates to raise awareness about the risks of and protection measures against gender-based violence, as well the health services and safe spaces for recovery available to survivors.
Beyond the immediate response, much more must be done to avoid the crisis spiralling uncontrollably. Safe access to health providers and funding for services are urgently needed to prevent high levels of unintended pregnancies, maternal deaths, and to protect women and girls from sexual violence.
Speaking about the current crisis, UNFPA Representative in Haiti, Saidou Kabore, said, "No woman should die giving life. No woman should be subjected to rape or other forms of gender-based violence. UNFPA is committed to enhancing health and protection services and saving lives."
Source:https://www.unfpa.org/news