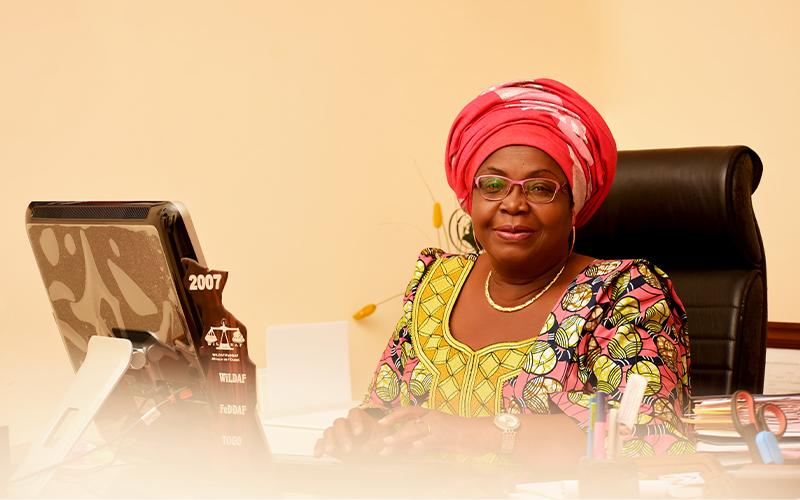 25 years already!
Women in Law and Development in Africa-Afrique de l'Ouest (WiLDAF-AO) is celebrating 25 years of existence. What a lot has happened in 25 years!
Only yesterday, August 1, 1997, with Beatrice AJAVON, we opened the doors of the small two-room office of WiLDAF, the Sub-Regional Office for West Africa, with an old computer on one of the two tables and a fax machine as office equipment. Indeed WiLDAF-AO has a memory of where it came from – what shall I say? How and why it was conceived.
The assigned mandate of the Regional Office in Harare was: To set up the network in the countries in order to be closer to the women, our main recipients, and to work with the national networks on women's priorities in the sub-region in order to positively impact their lives. Excessive ambitions in view of the certainly derisory resources? Probably yes, probably no.   We had 20 months to mobilize funds or close down the organization. It was a challenge to take up.
As a child learning to walk and exploring the universe of his room, WiLDAF in its early days, set out to discover the world of NGOs in 1999 with a first action entitled: "Organizing to better defend women's rights", followed by its very first project funded by the European Union (1999-2001). Phew! We had just mobilized our very first fund with the project: "BEYOND BEIJING: Capacity building of national women's rights networks to contribute to the implementation of women's human rights", titles that fit well with the assigned mandate.
From 2002-2004, WiLDAF strengthened the capacity of judicial and extra-judicial actors for the effective implementation of women's rights in West Africa and so on… These were the learning years of the network. We can see that they were more fruitful than we thought. From a small two-room office, WiLDAF-AO now has its own headquarters.
Excessive ambitions? Today I will say NO. It is true that at the beginning, inexperience paid its toll of difficulties, but this will to restore dignity to the African woman in general and in particular to that of West Africa, galvanized our ardor and allowed us to take up the challenge and to go forward. If the first years did not immediately lead to extraordinary results, they later proved to be fruitful.  WiLDAF of the first years is no longer WiLDAF of the following years. Not that it has changed its objectives, or renounced its mission of that time. But these objectives and its mission have acquired a new dimension. These actions have grown to become large scale actions. 
Also, on this day of the 25th anniversary of the network, I would like to celebrate the achievements accomplished in sometimes difficult conditions and in a context of limited access to resources. WiLDAF-AO is today the reference network in terms of women's rights, the most established in the West African sub-region where it is present in all the countries with national networks legally established in 11 countries and focal points in the 4 others. Over the years, we are proud to have contributed to legal and policy reforms at the national, sub-regional, regional and international levels on priority and strategic issues for women and girls on the continent. Indeed, we have joined efforts with all stakeholders to promote women's economic, political and social empowerment, to fight against gender-based violence including child marriages and female genital mutilation, to work towards making women's and girls' sexual and reproductive rights, rights within the family and women's participation in decision making a reality. We have also ensured that gender equality, including in agricultural policies, is mainstreamed.
On the field, through our programs, we have had the privilege and happiness of impacting the lives of hundreds of thousands of women who have benefited from the legal advice of the centers opened by our members to stop the violations of rights and discrimination they have experienced.  
WiLDAF-AO has also multiplied its contacts in the NGO world in Africa and elsewhere. At a very early stage the network cooperated with other organizations, and is today member of several coalitions.
As we mark from August 1st 2022 to July 31st 2023, these 25 years of existence of our network, WiLDAF-AO remembers; and because it remembers, it intends to thank its illustrious founders, these great figures of women's rights, who are no longer with us, but whose courage, strength and ardor allow us to continue our mission. If the network has overcome so many obstacles, is it not, above all, to its brave women that it owes it? So, THANKS to you, brave activists: The late Joanna Foster, the late Bisi Olateru-Olagbegi, the late Seny Diagne…
To those who continue the struggle, our dearest Anti Dorcas (Dorcas Coker-Appiah), Geneviève Boko Nadjo, Fatoumata DEMBELE DJOURTE, Mariam Coulibaly, Djeneba Diop Sidibé, Claire Quenum, … just to mention a few. We say thanks! We express our admiration and gratitude to you.
The network is grateful to all the partners who have embraced its mission and placed their trust in it by providing the resources necessary to accomplish it.  
It thanks the recipients who have invested in it their greatest hopes and who expect more and more from its efforts. How can we not salute here the action of hundreds of women and men paralegals, real linchpins in the fight for women's rights in the most remote areas of the country. And what can we say about the thousands of women in the agricultural sector who, thanks to our programs, have gained access to land, credit, cultivation techniques, and inputs, and have become aware that, as human beings, they have rights that they must claim in order to improve their situation. My thoughts go especially to two key actresses who have shown unfailing courage in the fight for women's rights. They are:
-Roukiéta from Burkina Faso, an emblematic figure of these women farmers who have been completely transformed, who have become empowered and leaders in their community through contact with the law.
-The Togolese woman who felt soiled by the rape she was only able to talk about with the support of her boyfriend and who had the satisfaction in this month of December and on the eve of the end of the year celebrations, to see her attacker apprehended and prosecuted.
I would have liked to continue this momentum of celebrating our achievements, but let us recognize that the future challenges are still enormous. We are far from WiLDAF-AO's vision of a West African community of informed, inspired citizens committed to contributing to a world where all girls and women enjoy their human rights on an equal basis with men.
Thanks to all of you, dear colleagues of the office and of the national WiLDAFs, paralegals, technical and financial partners who have made this journey possible. Thank you also to our male allies, those volunteers who have decided to carry their children on their backs to show that women cannot continue to be confined to reproductive tasks, those traditional leaders and technical leaders who, by being open and sometimes complicit, have made it possible to influence the decision makers in view of the desired reforms.
 We hope that we can always count on you to continue our journey towards a more just and prosperous West African society where women enjoy their rights in the same way as men.
Above all, we thank the LORD who gives us health and strength to carry out our actions.
HAPPY BIRTHDAY TO WiLDAF-AO