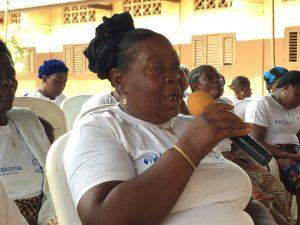 Project :« Promoting women farmers' economic and social rights through sub regional policies »  
Financial Partner : Diakonia
Total cost : 257331 $  
Duration : 3 years
Country : West Africa
Objective : To contribute to the effectiveness of the economic and social rights of women farmers and those involved in the business of agricultural products by supporting the implementation process of ECOWAS relevant policies.
Result
77% of the women farmers' and pastoralists groups and national WiLDAF networks in 13 countries (Burkina Faso, Guinea, Senegal, Mali, Côte d'Ivoire, Ghana, Benin, Niger, Togo, Gambia, Liberia, Sierra Leone and Nigeria) that received information, participated in National Agricultural Investment Plan, Food Security and Nutrition (NAIFSN) process;
representation of some WiLDAF national networks in spaces designed to influence process NAIPFSN. example WiLDAF Côte d'Ivoire, which through the National Network of Agro-Processors of Côte d'Ivoire, was actively involved in participating in the various thematic workshops for the preparation of the NAIPFSN;
In 50 % of West African countries, women groups and women farmers were recognised by the NAIPFSN (National Agricultural Investment Plan, Food Security and Nutrition) designing, implementation and evaluation committees as key actors;
The integration of gender and women's rights in the NAIPFSN;
Effective gender mainstreaming in the RAIPFSN (Regional Plan for Agricultural Investment and Food and Nutritional Security), in the ECOWAS youth employability strategy;
Designing of 3 tools: advocacy, awareness raising for women land rights and monitoring and evaluation tools on RAIPFSN and NAIPFSN and Kilimanjaro;
the monitoring and evaluation tool serves to produce a shadow report on the level of implementation of the regional plan (RAIPFSN);
The advocacy tool based on rural women's demands in the Kilimanjaro charter to support the implementation of regional and national agricultural investment plans and food and nutrition security developed has been presented to the 1st anniversary of Kilimanjaro in Addis November 2017 as one of the two tools to adapt and use at country level to support the implementation of the Charter; printed and disseminated for advocacy purpose;
set up and launch of the ECOWAS Network of parliamentarians on gender Equality and Investment in Agriculture and Food Security, thanks to CSO including WiLDAF-AO advocacy actions;
for the 2nd anniversary of Kilimanjaro, WiLDAF-AO coordinated a vast movement of more than 70 rural women from countries of West Africa and all over the other regions of Africa and who are engaged in Kilimanjaro initiative to advocate and make their voice heard during the launching of the network on gender equality of the parliament;
WiLDAF-AO engage the ECOWAS commissions on Kilimanjaro Initiative demanding for concrete actions for rural women ;
Study on specific problems that face women selling agricultural products on the corridor Abidjan-Lagos is available;
288 people from various sectors of activity, impacted by the awareness raising caravan organized in March 2018, on trade barriers on the Abidjan-Lagos corridor by the Borderless Alliance in partnership with the Abidjan-Lagos Corridor Organization (OCAL), Women in Law and Development in Africa (WiLDAF), National Facilitation Committees (CNF), Chambers of Commerce and Industry of various countries and board of shippers, under the direction of ECOWAS Commission as part of its advocacy efforts for cross border trade facilitation in West Africa;
ECOWAS parliamentarians increased their knowledge and capacity on Large Scale Land Acquisition ;
advocacy and sensitisation tools are designed and use for cross border trade campaign
awareness raising campaign on the respect of women's rights and harassment on women traders at the border's negative socio-economic effects;
advocacy document on the impact of Covid19 on women, titled « West african women facing Covid : 7 Facts /soution is available and   disseminated 30 July 31st, 2020, devoted to African Women's Day ;
strengthen the capacity of WiLDAF staff and members at regional level for a better influence at regional and sub regional levels and the enhancement of their management capacity.